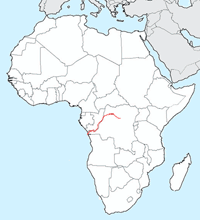 On the 2nd December 1885 Giacomo Bove left with Captain Fabrello and Doctor Stessano from Liverpool on the steam ship "LANDANA". It was registered to the African Steam Ship Company and set sail towards the Congo.
They sailed along the coast via the Island of Madeira and then headed for the Canary islands which provided them with food. On the 19th December they sailed along the coast of Sierra Leone which Bove described as a beautiful but unhealthy place.
They passed by the Liberian coast, and arrived at ST.TOME'island and GABON. On the 17th December 1886 they arrived at the mouth of the Congo.
During the rainy season, until April, they explored the South Congo. Bove tried to understand the territory, the commerce and to try and promote future commerce for Italy.
He asked the governor for a caravan to aid their journey to the North Congo and Kasa river. Sailing was very difficult as far as the Equator. Mr. Stanley was living here with the Bangala people.
They continued to the northern regions, as far as Stanley falls where they found local people fighting against the Arabians arriving from the Indian Ocean.
They started a return journey due to Captain Fabrello falling ill with the fever. On 17th October they set sail back to Europe. Giacomo succumbed also to the same disease.
| | | |
| --- | --- | --- |
| | | |