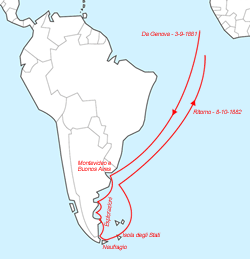 The expedition started on the 3th September from Genoa to Rio de Janeiro. He visited the prime minister Conte La Tour and he met the president of the Geographical Institute of Argentina Mr. Zebollos.
The ships prepared were the "cabo de Hornos" as a supply ship, a steam boat and the "Santa Cruz" a cutter which they would meet up with in Patagonia.
The Argentine government named Bove as chief of the expedition to study the south of Patagonia the "Fire Earth" and "States Island". The purpose of the expedition was above all to study the possibility of trading. On board the ship was a scientific commission composed by Doctor D.Vinciguerra (zoologist), Doctor C.Spegazzini (botanist), prof D.Lovisato (geologist), G.Roncagli (idrographer).
On 17th december 1881 they left from Buenos Aires on the Corvetta "Cabo de hornos". The captain of the ship, L.Pietrabuena, was Argentinian as were the other members of the ship.
They mapped all of the Argentinian coast, the isle of State, all the passages and the islands which are in the Magellan straits and in the Beagle channel (Clarence, Desolazione, Navarino, Burnt, Divide, Picton) as far as the Pacific Ocean.
Research was done with respects to the Fuegini people, the flora, fauna, sealife, fossils, etc. After many days sailing they reached the English Mission of Ushuaia. The English missionaries asked to sail with them to Slogett Baia, near the Picton, Navarino and Gable isles because they wanted to meet a group of Fuegini people still unknown. Just as they sailed away, a strong wind and a rough sea caused the "S.Josè" ship to be wrecked in Hammacoja.
The crew were rescued but there was no more chance to carry on with the journey (G.Bove wanted to go down towards Antartica) they were compelled to go back to Buenos Aires where he received a gold medal from the President of the Argentinian Republic. Then back to Italy.
| | | |
| --- | --- | --- |
| | | |